Airport's fuel farm project completed
MANAMA: Work at Bahrain International Airport's (BIA) new fuel farm complex is now complete, the developer Bahrain Jet Fuel Company (BJFCO) has announced.
The state-of-the-art facility will undergo normal pre-operation processing, including a thorough safety and security inspection by stakeholders before being handed over to Bahrain Aviation Fueling Company (BAFCO), the operations and maintenance service provider.
The announcement follows a board of directors meeting at BJFCO, a joint venture between Bahrain Airport Company and The Oil and Gas Holding Company.
Housing three aviation fuel tanks with a capacity of 10,000 cubic metres each, the fuel farm complex covers 77,000sqm, including dedicated operational buildings.
It is equipped with state-of-the-art safety and security features and the latest aviation product handling technologies.
The complex will supply aircraft with fuel through a dedicated hydrant network covering all BIA operational bays.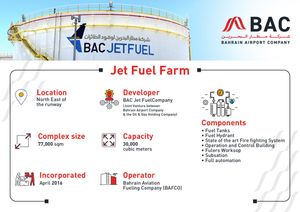 The fuel farm is a vital component of the Airport Modernisation Programme (AMP) that will add value for airline operators by streamlining aviation fuel supply, operations, and maintenance processes at BIA.
BJFCO chairman Mohamed Albinfalah said: "The significance of this project cannot be overstated. It will play a vital role in developing the kingdom's aviation sector while enhancing the efficiency of aviation fuelling at BIA. Over the past few months, the fuel farm has undergone extensive testing and commissioning to ensure that operations launch safely and effectively. I thank our shareholders for their continued support, and everyone involved in this strategic project for their professionalism and dedication, which enabled us to finish the complex on time and in accordance with the highest international standards."
It will also enhance the nation's logistics and aviation sectors.
BJFCO project manager and board director Abdul Majeed Al Qassab said: "This major achievement brings Bahrain a step closer to realising the ambitious future outlined in Vision 2030. The anticipated operation of the new facility comes at an important time as the global aviation industry continues to rebound from the impact of Covid-19."
Source: https://www.gdnonline.com/Details/943009