A tribute to cultural diplomacy
THE February cover of an international magazine pays homage to diplomacy and unity efforts by key cultural royal leaders from across the region, including Shaikha Hala bint Mohammed Al Khalifa, culture and arts director general at Bahrain Authority for Culture and Antiquities (Baca).
Shaikha Hala has been featured on the front cover and profiled in Vogue Arabia, along with women from royal families around the region - Kuwaiti founder of Intisar Foundation Shaikha Intisar Al Sabah; Omani mental health activist and psychotherapist Sayyida Basma Al Said; Qatar Museums' director of exhibitions Shaikha Reem Al Thani; Saudi secretary general of Alwaleed Philanthropies Princess Lamia Bint Majed Saud Al Saud; and Emirati equestrian Shaikha Latifa Al Maktoum.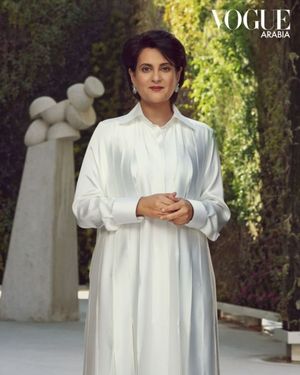 Shaikha Hala at the Green Corner building. Photo by Ali Sharaf
According to the publication, the issue intends to celebrate hope in the Gulf, in light of the recent GCC Summit Declaration signed on January 5, re-establishing ties between countries.
"Our presence in Vogue Arabia represents the unity of our Gulf, which we try to strengthen through our work in the cultural field," Shaikha Hala told the GDN.
"Cultural diplomacy, or soft power, remains the basis for enlightened interaction between people. It reflects the wealth of societies through their intangible heritage, which is the best ambassador for societies.
The February cover
"The importance of co-operation in the cultural field enhances social, economic and intellectual exchanges and creates harmony between the various countries concerned. The role of women remains essential in consolidating the ties that unite our countries to create a better future and promote our local communities."
The cover came together as a collaborative effort across Bahrain, Kuwait, Oman, Qatar, Saudi Arabia and the UAE, with each of the women photographed in an iconic location by a local photographer.
Shaikha Hala was photographed by Bahraini photographer Ali Sharaf at the recently-inaugurated Green Corner building, one of the sites under the Shaikh Ebrahim Centre for Culture and Research.
Source: https://www.gdnonline.com/Details/935138/A-tribute-to-cultural-diplomacy