200,000 Covid booster shots in three months
BAHRAIN has administered more than 200,000 Covid-19 booster shots in less than three months, setting a new benchmark for the world battling the coronavirus.
The country has vaccinated 201,076 citizens and residents until last night with a third dose of either Pfizer/BioNTech or Sinopharm.
An average of 5,400 booster shots have been administered every day since the beginning of this month.
Boosters are additional doses of a vaccine administered to ramp up the immune system's response to a particular pathogen.
Bahrain currently ranks second in the GCC in Covid-19 vaccination rates, with almost 71pc of its estimated 1.5m population fully inoculated. The UAE ranks first with 72pc, while Qatar is third (64.2pc), according to Our World in Data figures. Saudi Arabia has inoculated 29pc of its population and Kuwait 22pc. Oman has the least vaccinated population, 6.8pc, according to the site.
While researchers still have not concluded as to how long the jabs can protect a fully vaccinated person against the virus, a number of countries including Bahrain have been urging people to take booster for extra protection.
American Mission Hospital chief executive Dr George Cheriyan highlighted the role of boosters amidst rising concerns over mutant Covid-19 variants.
"Immune responses vary in individuals and over time antibody levels decline," Dr Cheriyan told the GDN.
"A third dose of the jab will boost immunity.
"The threat of Covid will wane as soon as we achieve – and maintain – herd immunity.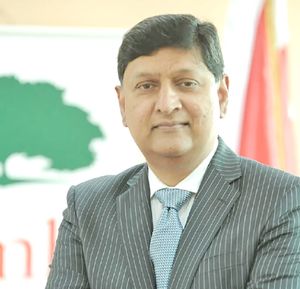 Dr Cheriyan
"Meanwhile, masking, physical distancing and hand sanitisation will reduce the chances of infection – even for those who are vaccinated," he added.
Bahrain offers a choice of Pfizer/BioNTech and Sinopharm to citizens and residents aged 50 and above who have completed three months after taking the second dose of Sinopharm, while others can take it after six months.
However, the Health Ministry earlier this month reduced the waiting period for booster to one month for most at-risk people, including adults aged 50 and above, obese, and those suffering from immunodeficiency diseases, as well as frontline medical workers.
Individuals aged above 50 can walk in for a Covid-19 booster without prior registration. They can get the jabs from designated halls at the Bahrain International Exhibition and Convention Centre, Sanabis.
Meanwhile, the country could step into the green zone from the current yellow level in the next 15 days, if it continues the pace of vaccinating its population aged 40 and above who are eligible for the booster.
The National Taskforce for Combating the Coronavirus last month said it aims to administer booster doses to 80pc of those eligible – or 200,000 individuals aged 40 and above.
Health Ministry Under-Secretary Dr Waleed Al Manea had said that the country will not enter the green Covid-19 alert level, and will stay in yellow, orange or red – based on the spread of the Covid-19 virus – until 80pc of eligible individuals aged 40 and above are inoculated.
A total of 164,150 people in this category have taken the booster shot until yesterday, which accounts for 64.4pc of those eligible for it (254,870).
The country has been vaccinating an average of around 4,000 people daily since the beginning of the month. This means, the remaining 42,182 people could receive the booster shots in the next 11 or 12 days.
Source: https://www.gdnonline.com/Details/963644/200,000-Covid-booster-shots-in-three-months