Shoppers urged to follow safety protocols
SHOPPERS have been urged to adhere strictly to Covid-19 safety precautions.
The Health Ministry stressed that people should only be going out if it was absolutely necessary, such as going to work, to buy medicine, to the hospital or to buy essential supplies.
Primary health medical services deputy chief Dr Mona Al Taho said people with the coronavirus, cold or flu symptoms should not go out of the house as this might expose a large number of people due to the way the virus spreads rapidly.
She also urged people to wash their hands before leaving the house, and follow safety protocols while shopping, such as wearing a mask, avoiding touching a lot of things, and maintaining social distancing.
"Among the preventive measures for safe shopping, avoid touching the face and constantly sterilise your hands and the handles of shopping trolleys and baskets," said Dr Al Taho.
"When paying for purchases, try to avoid using banknotes and sterilise your hands and the card after using it.
"Upon returning home, put the purchases aside and wash your hands very carefully. Sterilise the purchases and get rid of the bags.
"It is very important to wash fruits and vegetables as well, and wash your hands before cooking," she said, adding that precautionary and preventive measures encouraged online shopping, or avoiding peak times for shopping.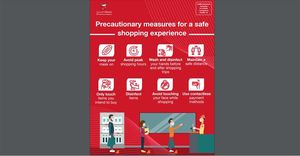 She also underlined the importance of ensuring the face mask covers the mouth and nose, and disposing of the masks correctly.
Meanwhile, a number of citizens have stressed the importance of getting vaccinated to combat the spread of the virus.
Ibrahim Abdullah, who took the Covishield vaccine, said he was keenly following the statistics of current cases and the increase in numbers, adding it was imperative for everyone to take the vaccination to limit the spread of the virus.
"I felt some symptoms after taking the vaccination, such as high temperature and chills, but it did not exceed four hours, and it quickly disappeared completely," he told BNA.
Maryam Al Banna, who works in the education sector, said that her experience with the Russian Sputnik vaccine was good, and she got an appointment very easily.
"I received the appointment two days after registration, and saw that the medical staff at the Bahrain International Exhibition and Convention Centre was very organised," she said.
Source: https://www.gdnonline.com/Details/938628/Shoppers-urged-to-follow-safety-protocols