1,134 patients visit new clinic
MORE than 1,000 patients with coronavirus (Covid-19) infection sought treatment at a newly established facility during the last five days.
The clinic at the Bahrain International Exhibition and Convention Centre (BIECC), was opened to the public last Wednesday.
Dedicated
The Health Ministry said the centre, with dedicated primary and secondary healthcare units, would receive Covid-19 patients on home isolation who show 'minor to moderate' symptoms.
Health Ministry family medicine consultant and the centre's primary healthcare unit in-charge Dr Safia Neama said the facility has been witnessing a smooth flow of patients 'who are attended to efficiently'.
"The centre received 1,134 (Covid-19) cases in the first five days since its inauguration," said Dr Neama.
"We call upon people with mild to medium symptoms of the infection to come directly to the centre, without calling 444.
"It has a prompt mechanism for receiving and transferring patients, if needed."
Dr Neama said the centre received patients on home isolation who walk in directly, are referred by health centres or seek care through the BeAware app.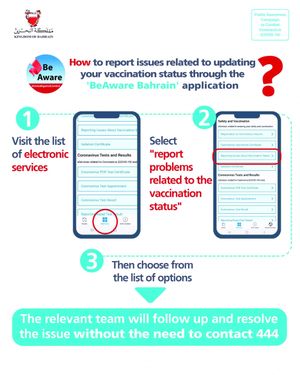 Diagnosis
"All existing cases which reach the centre are classified based on their need for medical attention," she said.
"They are examined for diagnosis and then transferred for the necessary treatment, which is executed according to approved protocols.
"The centre also follows up on the progress of their treatment and recovery. They are contacted periodically by team members, who also aim to ensure they continue home isolation without fail."
Salmaniya Medical Complex Internal Medicine Department resident and in-charge of the secondary health care unit at the centre Dr Alia Al Balushi said the centre had an outpatient department and a short-stay unit, where patients are referred to from primary care.
"There are cases that need observation and follow-up, and others which may need attention as they suffer from fatigue and lack of oxygen," she said.
"There are also cases of lung infections that are concurrent with severe cough.
"Cases of nausea and vomiting accompanied by diarrhoea and abdominal pain are also frequent.
"Emergency cases that require hospitalisation or intensive care are transferred by ambulances after co-ordination with the authority concerned."
Beds
The centre has eight stations for initial triage, eight for registration and six for nursing, 16 medical clinics, seven treatment rooms, seven follow-up rooms and follow-up appointment stations, medical imaging equipment and stations for registration of short stay cases that require to be placed under observation.
Eighty beds have been allocated for follow-up and observation.
Meanwhile, Health Ministry announced an update on the BeAware app to assist people who face issues with their vaccination status.
"It can be sorted out through the BeAware app, under e-services, without the need to call 444," it said.
Source: https://www.gdnonline.com/Details/948071/1,134-patients-visit-new-clinic